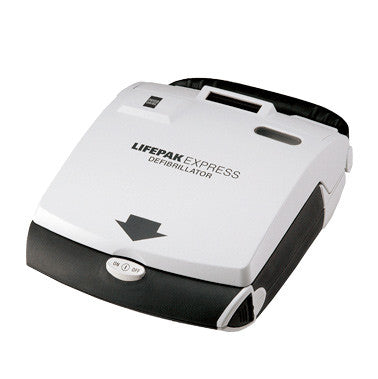 Physio-Control LIFEPAK EXPRESS® Semi-Automatic AED
$1,295.00
The LIFEPAK EXPRESS defibrillator is a critical resource that is easy to use. Once a first responder—a coworker or simply someone nearby—activates the device and applies the QUIK-PAK™ electrode pads to the victim, the defibrillator analyzes the heart rhythm and provides step-by-step instructions via our calm, confident ClearVoice prompts.

The LIFEPAK EXPRESS is designed to determine if a shock is needed and the easy-to-locate, flashing shock button alerts the rescuer to push the button.

The LIFEPAK EXPRESS defibrillator provides the most potent defibrillation energy available.

An initial shock to an SCA victim is delivered at 200 joules (200J), which has been shown to be effective in defibrillating the heart of a majority of patients. However, because some people are more difficult to defibrillate than others—and may need more than 200J—the LIFEPAK EXPRESS has the capability to escalate energy up to an industry-leading 360J.

The LIFEPAK EXPRESS defibrillator is reliable and easy to own. A readiness indicator lets you know the defibrillator is prepared to do its job. And the battery charger and electrodes have a synchronized replacement schedule that makes your maintenance program efficient and affordable.


Industry-leading 360 joules capability
Step-by-step ClearVoice™ prompts
Same technology used by medical professionals
Flashing shock button
Highly visible readiness indicator
Simplified maintenance
Lightweight and compact
Height: 10.7 cm (4.2 in)
Width: 20.3 cm (8.0 in)
Depth: 24.1 cm (9.5 in), excluding handle.
Weight: 2.0 kg (4.5 lb) with CHARGE-PAK battery charger and electrodes.
Lifepak Express Defibrillator, Semi Automatic Unit Device includes:
1 pair QUIK-PAK pacing/defibrillation/ECG electrodes with REDI-PAK pre-connect system
CHARGE-PAK Charging Unit
Quick reference instruction card
Reference manual (CD)
5 Year Warranty