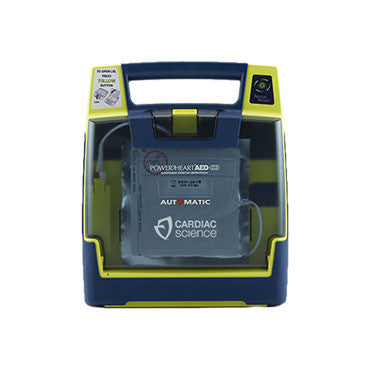 Cardiac Science Powerheart® AED G3 Plus
$1,675.00
The Powerheart AED G3 Plus is the flagship Cardiac Science AED (automated external defibrillator), complete with RescueCoach and CPR metronome to pace chest compressions. The AED G3 Plus is Rescue Ready in an emergency. This AED is available in both Automatic and Semi-Automatic. 
Includes: 
  - Sets of Adult Electrodes
  - Long-Life Lithium Battery
  - Training DVD and Unit Software
  - AED Software Cable
  - Rescue Ready Kit (Scissors, Razor, Gauze, Alcohol Wipe, CPR Mask, Bandages)
  - AED Check Tags
  - Letter of  Re-Certification
  - 3-Year Warranty on Parts & Labor 
AED FEATURES
The Powerheart AED G3'S Rescue Ready Technology Self-Checks All Main AED Components (Battery, Hardware, Software, And Pads) Daily. The AED Completes A Partial Charge Of The High-Voltage Electronics Weekly, And A Full Charge Monthly.
AED G3 Plus RescueCoach And CPR Metronome Pace Chest Compressions.
The AED G3 Plus Calculates Electrical Impedance And If A Second Shock Is Necessary, Our Proprietary STAR Biphasic Technology Escalates The Energy To Deliver Therapy At An Appropriate, Higher Level.
The AED G3 Has A 4-Year Full Battery Operational Replacement Guarantee.
AED BENEFITS
Reliability. The AED Is Rescue Ready When Needed.
Simplicity. Almost Anyone Can Use The AED.
Reassuring. The AED Knows When To (And When Not To) Deliver The Shock So Users Don't Have To Worry About "Doing It Right".

In A University Of Pennsylvania Simulated Rescue Study, The AED G3 Plus Helped Untrained Adults Deliver CPR Of A Quality Similar To That Of Trained Professionals.

Comprehensive. The AED Text Screen Is Helpful In Noisy And Chaotic Environments.